History will be made tomorrow, and I cannot wait to share it with my kids. Here are some fun ideas to help celebrate!
It's not a party at my house without cupcakes!
*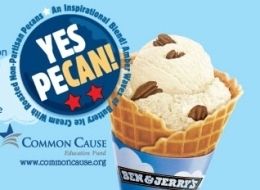 And don't forget Ben & Jerry's
Yes Pecan!
ice cream

*



Obama "Change" Plate
For this project I traced the symbol in a paper plate, then outlined in glitter glue. Let dry, and paint in-between lines.
(We used
Elmer's Squeeze & Brush
)
Our White House: Looking In, Looking Out

*
Biography of Barack Obama... click
here
.
*